Posts Tagged 'Fine Art auction turnover in New York'
2021/01/19
Commentaires fermés
In 2020, the world's leading Fine Art marketplace was at the epicentre of damage caused by the covid pandemic, and the city's carefully structured auction agenda was completely upset. After the revenue shortfall resulting from the cancelled May sales, the major auction houses managed to switch over to online sales, but the high-end market struggled to catch up throughout the second part of the year.
Monthly Fine Art auction turnover in New York (2019 vs 2020)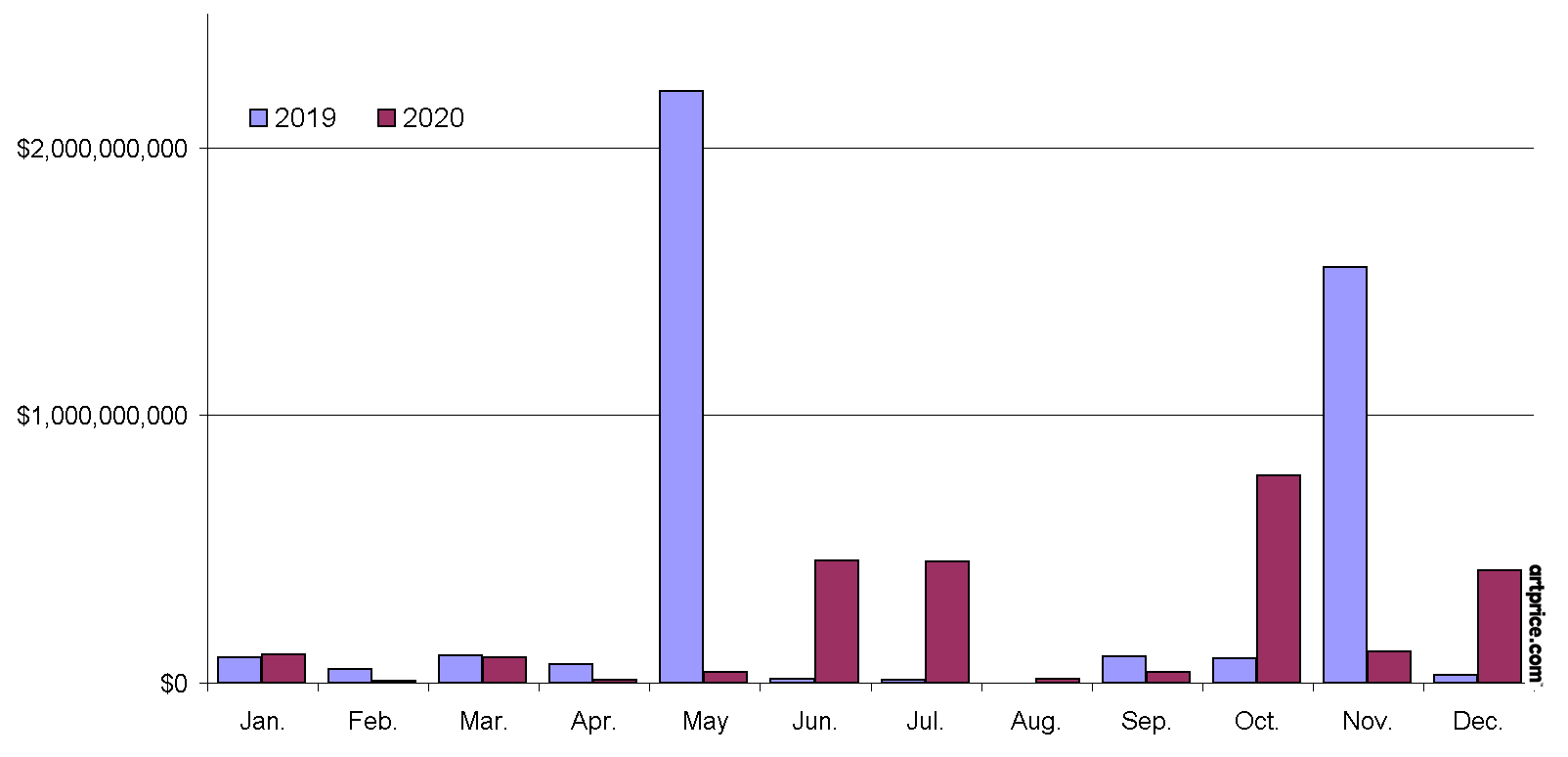 thierry Ehrmann, President and Founder of Artmarket.com and its Artprice department: "The boom in 100% online sales has somewhat undermined the logic of maintaining auction rooms and offices in the centres of expensive cities like New York. Manhattan's power of attraction remains strong and certainly contributes to the success of the prestige sales, as we saw in 2020. But what about the rest of the Art Market? Will it be able to afford city-centre venues?".
-98% in May
In May 2019, the Big Apple hammered $2.2 billion at Fine Art auctions, thanks notably to eight works selling above the $50 million threshold between 13 and 16 May: Monet ($110 million), Koons ($91 million), Rauschenberg ($88 million), Cézanne ($59 million), Picasso ($55 million), Warhol ($53 million), Bacon ($50 million), Rothko ($50 million). The diversity of these masterpieces, created between the end of the 19th century and the Post-War period, illustrates the attractiveness of New York as a Fine Art marketplace.
In May 2020, however, auctions (functioning online only) totaled just $39 million in Manhattan, i.e. just 2% of the total for the previous May. According to Artprice data, this total was generated by 1,400 Fine Art lots which sold for an average price of $28,000.
All summer to relaunch
It wasn't until the very end of June 2020 that the high-end market finally appeared to unblock. The New York market immediately recorded the only result of the year above $50 million in the West, with Francis Bacon's Inspired by the Oresteia of Aeschylus (1981).
Compared with the year-earlier period, the first semester of 2020 New York art sales ended down -54%. This significant shortfall was partially offset when the major houses decided to hold a number of prestige sessions in October, but it was made by moving forward part of the prestigious November sales.
Confidence returning
Fortunately the outlook is positive: confidence has gradually returned to the art market at the international level. Artprice's AMCI (Art Market Confidence Index) rose throughout November and December. So much so that by the start of 2021, two thirds of Art Market professionals declared a 'strong intention' to acquire new works.
There can be no doubt that the Botticelli masterpiece that will be offered by Sotheby's on 28 January 2021 in New York has captured the attention of major art buyers and enthusiasts all over the planet.
Image: [ https://imgpublic.artprice.com/img/wp/sites/11/2021/01/Artprice-Monthly-Auction-Turnover-in-New-York-2019vs2020.png ]
Copyright 1987-2021 thierry Ehrmann www.artprice.com – www.artmarket.com